Skip Navigation
Website Accessibility
Baby Lock Regalia with ProStitcher Premium and 12 ft Kinetic Frame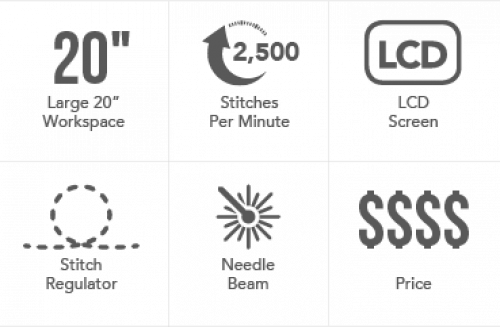 You will love the show-level precision and quality you can achieve with the Baby Lock Pro-Stitcher Quilting Software. No extra PC is required; Pro-Stitcher comes with its own. Create quilt designs with various customization options. Merge, duplicate, crop and fit designs in multi-point shapes. Even create unique pantograph designs by wrapping and staggering a continuous pattern. When you are ready to switch back to free-motion quilting, it is easy to disengage Pro-Stitcher quilting software.
Give your quilting projects the royal treatment on the Regalia-Baby Lock's largest longarm machine yet! With 20" of workspace and a lightning-fast 2,500 stitches per minute, the Baby Lock Regalia longarm quilting machine is ready to easily finish quilts of any size. It features a built-in Stitch Regulator that ensures smooth, precise stitching for a harmonious finish.
The Baby Lock Regalia longarm quilting machine features include:
Large 20" Workspace
2,500 Stitches Per Minute
LCD Color Touchscreen
Built-In Stitch Regulator
Needle Beam
Large "M" Class Bobbin
Adjustable Front Handlebars
The Kinetic frame is a five-rail frame that can be set up at five or 10 feet long. An optional 2' extension (Item #BLKF-EXT) is also available. The entire frame is made of solid-steel tubing, and the legs are adjustable so the frame table height can sit anywhere from 33" to 44" tall.


Add a two foot extension to your Kinetic Frame extending your frame to 12 feet. The extension can also be combined with only one section of your Kinetic frame for a 7 foot quilt frame.